On Valentine's Day, 1929, seven men were gunned down in a Chicago garage supposedly caused by Al Capone.
The latest Valentine's Day massacre caused the death of 14 children and three educators in Marjory Stoneman Douglas High School in Parkland, Florida. The executioner was Nikolas Cruz, a lonely, depressed young man who legally was able to obtain an automatic weapon even though he was only 19.
Chicago, at the time, was considered the "wild, wild, west". Today, America is considered the "wild, wild, wild" country. 13,286 people were killed in the US by firearms in 2015, according to the Gun Violence Archive, and 26,819 people were injured [those figures exclude suicide].
Nikolas Cruz couldn't vote, drink or even get a handgun in Florida but was legally able to purchase an AK47 rifle. The crime is being blamed on his mental illness, yet most mentally ill people don't kill. It is not a mental illness that led to the latest school killings, it is the proliferation of weapons in America and the ease of obtaining them. Why is this happening…because of the National Rifle Association's politicized donations to Senators, Representatives both in the Federal Government and States. Our politicians have chosen guns over the lives of children and IT MUST STOP!
I propose a day of National Day of Mourning, on Sunday, May 13, Mother's Day followed by a National March to State Capitals of Parents, Students and Teachers. Maybe they will get the message and answer the question, how many more children must be killed before you act? If you agree, please pass this message around to your friends, neighbors, parents, teachers and students.
ENOUGH IS ENOUGH!
Valentine's Day, 2018, a day of love, brought death to 17 people and their families. It was the 18th school shooting in 2018 and we haven't finished the month of February. According to Leonard Leonardt in the New York Times (February 15, 2018) "A study in the journal Health Affairs, the 'United States is now the most dangerous of wealthy nations to be born into.'
"The United States suffers from an epidemic of shooting deaths which are nearly nonexistent elsewhere. The gun homicide rate in this country is 49 times higher than in other rich countries."
Most of this year's school shootings took place in places which most people haven't heard of – Sierra Vista Ca, Marshall TX, Italy TX, Gentilly Louisiana. Some of the shootings took places that people have heard of – Seattle, Philadelphia, Bronx, Mobile, Winston-Salem.
I believed that after Columbine, on April 20, 1999 which killed 13 children and adults and wounded 20 others, Congress and the President would take some action. I was wrong.
After twenty-six babies (5 and 6-year olds) and six adults were killed at the Sandy Hook Elementary School in Newton Connecticut surely Congress would take some action. Again, I was wrong!
Las Vegas Nevada (October 1, 2017) a gunman opened fire and left 58 dead and 851 injured. Surely that would wake up Congress and the President. Wrong again!!!
When one of their own was shot – Gabby Griffords, Democrat from Arizona and Steve Scalise, House Majority Whip nothing happened other than the lowering of the national flag and the bemoaning that the shootings took place. But no legislative action.
No child, no family, no school is safe as long as there isn't Congressional legislative action. I am not recommending suing gun manufacturers and dealers. Congress has already protected them from suit. (The Protection of Lawful Commerce in Arms Act (PLCAA) is a United States law which protects firearms manufacturers and dealers from being held liable when crimes have been committed with their products. However, both manufacturers and dealers can still be held liable for damages resulting from defective products, breach of contract, criminal misconduct, and other actions for which they are directly responsible in much the same manner that any U.S. based manufacturer of consumer products is held responsible. They may also be held liable for negligent entrustment when they have reason to know a gun is intended for use in a crime.)
I am not proposing the elimination of the Second Amendment. I am saying that automatic or semi-automatic weapons that can be purchased on the open market by 19-year-olds is wrong. That the one-time purchase of 500 rounds of ammunition is wrong. That magazine clips holding 20,30, 50 rounds is wrong. That armor piercing bullets is wrong.
Read the article written by my friend, Stephen Sroka, http://www.wholechildeducation.org/blog/school-safety-lessons-learned-from-cleveland-to-newtown for another perspective.
This is not a Democrat or Republican or liberal or conservative issue. It is an American issue.
How many more children have to be killed before Congress does something?
I will have a series of articles published the first on February 12. They will be published on edCircuit.com,
The articles were written for and published by  MindRocket Media Group.
Today, February 1, 2018 a 12-year-old girl in a Los Angeles Middle School shot and wounded 2 other students. This marks the twelfth school shooting this year. You have that correct; there were eleven school shooting in January.
The eleventh school shooting (January 23, 2018) took place in Benton, Kentucky and resulted in the death of two students, injuring eighteen. The shooter used a hand gun. It was the 3rd shooting that week. The shooter, whose name has not been released, because of his age, will be charged as an adult with two counts of murder. I do not have a problem with the shooter being charged as an adult with murder. Obviously, he committed the crime. But he is not the only guilty party.
Who else is guilty? First, let's blame the people who enabled this young man. It might have been his family who failed to lock their weapon. Or the state and Federal Governments which fail to keep guns out of the hands of young people. A law (15 U.S.C. 7901-7903) the Protection of Lawful Commerce in Arms Act (PLCAA) is a United States law which protects firearms manufacturers and dealers from being held liable when crimes have been committed with their products. The law was codified at 15 U.S.C. §§ 7901-7903. The act was passed by the United States Senate on July 29, 2005, by a vote of 65–31. On October 20, 2005, it was passed by the House of with 283 in favor and 144 opposed.
Like many, I thought that the shooting at Columbine High School (April 20, 1999) resulting in the death of twelve students and one teacher would wake the nation up to the need to keep weapons out of the hands of young people. I was wrong.
Again, with the massacre of 20 six and seven-year olds in Sandy Hook Elementary School, I felt that the Congress would stop this slaughter. Again, I was wrong.
Maybe the shootings of Senator Gabrielle Gifford of Arizona and Congressman Steve Scalise of Louisiana would cause Congress to want to protect their own. Again, I was incorrect.
How many more children need to be shot? How many other families must grieve the deaths of their young children? What will it take for Congress to take responsibility and say, "enough is enough"?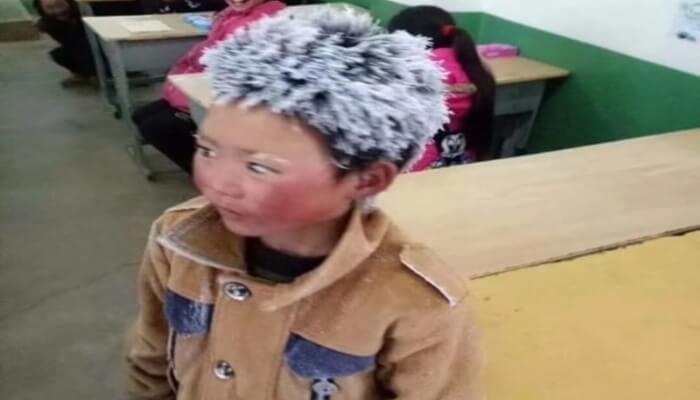 Wang Furman, 8, walks 2.8 miles to school every day. His route takes him through mountain and streams until he reaches the warmth of his third-grade classroom. He arrived 2 hours later where the freezing temperatures had covered his hair, eye brows and eyelashes with frost making him look like a snowman. Wang is among the 43 percent of China's population that lives in rural areas.
In addition to providing children and families with education, schools provide the "glue" that holds communities together. Yet politicians see education as a cost.  "Education is expensive", they claim without recognizing that incarceration is far more expensive – yet rarely questioned. Why do they cut education budgets?
I have been selected to deliver 3 workshops at the 2108 At-risk Youth Forum to be held at the Embassy Suites @ Kingston Plantation, Myrtle Beach, SC from February 18-21, 2018.
The conference is designed to enhance the leadership skills of those seeking to strengthen interventions among schools, community and families especially those in the at-risk community. The conference will focus on areas of Strategies for Homeless Youth, Mentoring Relationships and Family and Youth Engagement.
For additional information, go to www.dropoutprevention.org
 Would love to meet you there.
Franklin
Education's #1 Job
School systems have several functions – educating children, preparing them for success and to thrive in society; but the most important function is to protect them.
Special education students face enough challenges without states adding to them. A Federal report from the US the Department of Education's Office of Special Education Programs stated that the Texas Education Agency had set arbitrary special education enrollment targets set to delay or deny special education services to students across the state. For more than a decade, TEA judged a school district's performance based in part on the percentage of students receiving special education services. The report confirms the Houston Chronicle's findings in a 2016 investigation, showing that tens of thousands of students with disabilities were denied special education services because of the 8.5 percent cap. "TEA's use of the 8.5 percent indicator contributed to a statewide pattern of practices that demonstrate that TEA did not ensure that all [districts] in the State properly identified, located and evaluated all children with disabilities who were in need of special education and related services," the department wrote.
Texas' governor, Greg Abbott, following the federal report, sent a letter Education Commissioner Mike Morath directing him to prepare an initial corrective action plan within seven days. "The past dereliction of duty on the part of many school districts to serve our students and the failure of TEA to hold districts accountable are worthy of criticism," Abbott said in the letter. "TEA must take steps now to significantly increase the oversight provided to ensure our special education students are receiving the services they deserve." Abbott noted that the problems predate Morath, who became commissioner in 2016. Still, Abbott said, "parents and students demand significant actions be taken now to improve special education in Texas."
The education department ordered the TEA to implement several corrective action measures. The state must show that it is monitoring the way districts evaluate students suspected of having a disability to ensure schools are providing students a "free appropriate public education," a tenet of federal special education laws.
Schools must provide special education evaluations to students that were previously denied services. For students that already receive special ed, educators may need to determine if those students need more academic support.
The state must also submit a plan, including a timeline, for how it will train educators on RTI, the state's dyslexia program and other special education laws.
"While there is still more work to be done, leaders in the state have assured me they are committed to ensuring all students with disabilities can achieve their full potential," DeVos said.
The department did not lay out a specific date for when it expects to see the state's plan, but the governor wants it within seven days, as well as potential legislative recommendations to ensure schools are following special education laws.
"Throughout your tenure, you have advised me of changes taking place at TEA to strengthen and better support special education in Texas," Abbott said to Morath in the letter. "Through your efforts, much has already been done. However, it is obvious that more can be done, and more must be done."
To exclude Special Education students' services based on an arbitrary set percentage is of as school district's number of students is ludicrous. Punishing Special Education students because they live in particular district is offensive and obviously illegal.
No matter which holiday you celebrate – I wish you, your family and your loved ones a happy, joyous and fruitful holiday. And for the world in the New Year – I wish for a year of peace.
Franklin
The national high school graduation rate has risen to a new all-time high: 84 percent, the fifth straight year of increases, according to data published by the National Center for Educational Statistics (NCES)
The graduation rate for the high school class of 2015-16 is nearly a whole point higher than the one for the previous year's class which was 83.2 percent. The rate measures the proportion of each freshman class (cohort group) that earns a diploma four years later.
All groups of students showed improvements. The graduation rates for black students and for students who are learning English each rose 1.8 percentage points in one year. The rates for low-income students and Hispanic students each rose 1.5 points since the previous year. Students with disabilities saw a gain of nearly a full percentage point.
" There are more graduates this year than last. That's a good thing." said Phillip Lovell, the vice president for policy and advocacy at the Alliance for Excellent Education, which works on high school policy issues.
The fact that all subgroups of students showed gains is "super important," Lovell said. "We don't want to increase the national grad rate and leave behind kids."
Despite the gains, however, there is still cause for concern. Some groups of students are still graduating at far better rates than their peers; there is a gap of more than 14 percentage points between Asian and African-American students, for instance. Low-income students lag behind their overall class by more than six points. 
High school students show that they have a long way to go to be ready to succeed in college, too. Every year, large proportions of students fall below the college-readiness benchmark scores on the SAT and ACT.
What Does a Diploma Mean?
Robert Balfanz, a Johns Hopkins University researcher, said that the new rates show real progress for "the groups that need progress the most"—low-income and minority students, students with disabilities and those learning English. But he said it's important that educators and policymakers keep their eye on a key issue: the rigor of the work students are asked to do for their diplomas.
"We can devalue anything if we give it away," Balfanz said. "We need to be sure these kids are earning honest diplomas."
Federal requirements that schools report graduation rates by student subgroup helped "shine a spotlight" on work that needed to be done, and lead schools to set goals for improvement. But good national or state graduation rates can also camouflage wide variations among schools. Under the Every Student Succeeds Act, a school is considered a "low graduation rate" school if it fails to graduate two-thirds of its students within four years. The distribution of those schools varies widely from state to state. In 2015, 12 percent of all U.S. high schools were low-graduation rate schools, according to GradNation.
How Real Are the Gains?
Michael J. Petrilli, the president of the Thomas B. Fordham Institute, which studies academic standards and accountability, said "There is a plausible case to be made that the education system is doing a better job for more of these kids, especially for disadvantaged subgroups,".
Thirty-four states had a graduation rate between 80 and 89 percent. Washington DC and New Mexico had the lowest graduation rate at 69 percent.  Iowa and New Jersey had the highest graduation rate at 90 percent. The state of Alabama was not counted because its "reporting standard were not met."
Thanks to all educators who made this possible.
Extracted from Education Week, December 4, 2017, by Catherine Gewertz
Attendance Counts –  Starting with Kindergarten
Why is kindergarten so important? A 2011 California study found that 64 percent of students with good attendance in kindergarten and first grade could read at grade level after third grade, but only 17 percent of students who were chronically absent in both grades could do so.
Poor attendance through all grades, according to Attendance Works, is four times more likely among low-income students – the ones with the strongest need for class time to boost their math and reading scores. And the further behind a student gets, the less likely he or she is to graduate.
What can be done to get students to show up? Techniques include educating parents of kindergarten students about the importance of attendance, letting them know quickly when attendance problems arise, addressing any barriers that are preventing students from making it to school.  Schools can send text messages to parents starting at 6:45AM each morning to remind parents to get their children ready for school. The schools can also pass out hygiene kits to young students to help reduce illnesses and the resulting absences.